B.S. in Health Care Management
Lead Operational Excellence
Generous Transfer Credit Policy
Earn Credit Towards Your MHA
Build Health Care Leadership Skills
Learn More Today
Complete the form to learn more about this program.
Duration

4 years

Cost per Credit

$420

Credit Hours

120
Program Benefits
Prepare to become a patient care advocate
Geared toward first-time freshman and transfer students
Minor in health care management option counts toward an MHA
6 start dates per year
How Does a Health Care Management Degree Help Me to Help People?
Use health care business knowledge to improve patient experiences and outcomes — enroll in our online B.S. in Health Care Management degree (B.S. in H.C.M) today. You'll graduate ready to develop and implement evidence-based plans that improve patient care and drive organizational excellence.
With your B.S. in H.C.M., you'll understand how to apply expert-level business practices to navigate the complexities in medical care, laws and regulations, and technology. This allows you to work effectively with the many people and agencies who affect patient care.
Coursework includes:
Health studies, gerontology, and psychology to understand the physical and psychological needs of patients and clients.
Economics, to understand how economic behavior will affect your organization and what you can do to deliver the best health care services while meeting organizational goals.
Anthropology and social studies to understand how the U.S. health care system operates in the broader contexts of health care delivery.
Ethics, so you can manage the conflicts between policy, providers, and patient care.
The program is designed for first-time freshmen and transfer students who want to help others by managing the business of health care.
Continue Your Undergraduate Education
This online degree is also a completer program, which means that students may transfer credits into an undergraduate program at Utica University. Students may also complete all 120 credits at Utica University as a full, undergraduate degree. Candidates for the baccalaureate degree must satisfactorily complete a minimum of 30 credit hours of study at Utica University. A maximum of 90-98 credits may be transferred from four-year institutions, and 60-64 from two-year institutions, depending on one's academic major. Transfer students who matriculate with 60 or more credits need to declare a major upon entering Utica University.
Serve Others in a Health Care Management Career
As a medical health and service manager, the work you do directly affects a patient's access to quality health care, improves their experiences and can result in optimal treatment outcomes. This role is expected to grow by 32% between 2019 and 2029.1
With your B.S. in H.C.M. in hand, you're ready to step into a variety of health care management careers that demand expert industry and business knowledge to be successful.
Learn More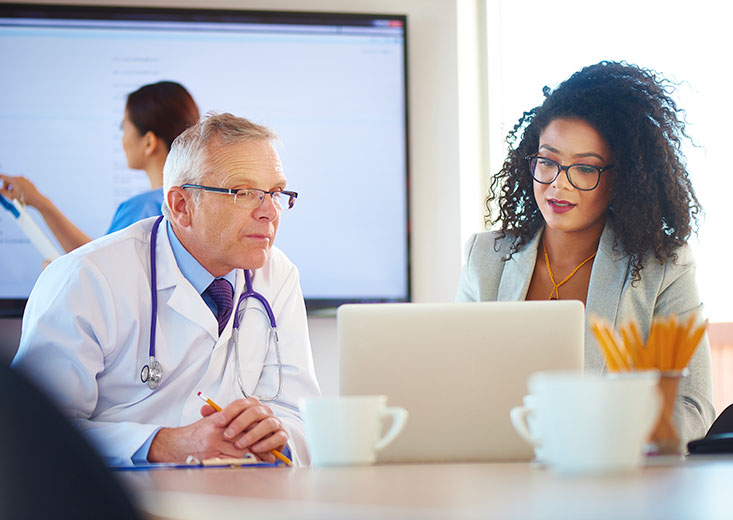 B.S. in H.C.M. Curriculum: Use Business Skills to Focus on People
Coursework in our health care management program connects humans and business in a way that benefits both.
Led by expert faculty members, our B.S. in H.C.M. courses show you how to ask the right questions and find the solutions that make your organization a great place to work and to get well.
You'll learn how to use the best business practices to discover information like the root cause of an issue, the most compelling message in a marketing campaign, what's really driving patient outcomes, and more.
Explore Courses
Becoming a Healthcare Manager
Discover how a career in healthcare management will fuel your passion for helping others and drive growth in a dynamic business environment. In this video, Professor Maria DeGiglio, MA, BCPA, Director of Healthcare Management Programs, explains the benefits of preparing for this field with Utica University.
Gain an Additional Health Care Credential with Huge Savings
As an undergraduate student, you'll have the option to complete an online Minor in Healthcare Management to expand the scope of your undergraduate studies and/or graduate degree. You can optimize your transition into advanced health care careers and graduate programs.
The minor includes 15 credit hours of graduate-level courses that transfer directly to the MHA and allow you to earn your master's degree in just one more year. Plus, you only pay the undergraduate tuition rate! The minor is taken as a part of the 120 total credits required to complete your undergraduate degree curriculum.
See More
Ready to Apply?
Our online B.S. in H.C.M. degree program accepts applications from first-time freshmen and students with some college credit or an associate degree. To apply, you'll need the following:
Résumé
Personal statement
Letter of Recommendation
Official Transcripts
See Full Details
What is the Tuition?
The tuition for the online health care management program is $420 per credit hour. Utica University is dedicated to making an advanced education accessible and affordable and offers many avenues for financial aid.
Learn More
Learn Health Care Management from the Experts
Who you learn from matters. Our faculty use their long-term industry experience to clearly demonstrate how coursework relates to the real-life challenges you'll be expected to manage in your new role.
Learn more about the experiences and research interests of the faculty who teach our health care management degree now.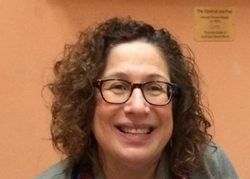 Maria A. DeGiglio, M.A., B.C.P.A.
Director, Healthcare Management Programs and Professor of Practice
Professor Maria DeGiglio, MA, BCPA, is a health advocate with specific experience and expertise in health advocacy, health care, healthcare administration, and higher education, supported by over 10 years developing online and on-ground graduate curricula in healthcare administration, health studies, and health/patient advocacy.
DeGiglio is a former IT executive, professional, and principal industry analyst with specialization in health care and higher education and specific expertise in project management, informatics, business process design and improvement, continuous improvement, business/IT alignment, business case development, contingency planning, and Balanced Scorecard. She also has comprehensive knowledge of both the business and IT issues affecting health care and healthcare education and has legal and policy expertise in privacy and regulatory compliance.
Professor DeGiglio was originally appointed Director, Health Care Advocacy and Navigation (HCAN) and Professor of Practice at Utica University's School of Health Professions and Education in 2014. In June 2019, Professor DeGiglio was appointed Director of the Master of Healthcare Administration Program.
Prior to her appointment at Utica University, Professor DeGiglio directed the development, implementation, and delivery of the Alfus Healthcare Advocacy Certificate Program (AHACP), offered by the University of Miami, and served as lead/adjunct professor (Sept. 2009 to Dec. 2011). She was president and principal of Maria DeGiglio Consulting Group (from 2005 to 2014) working with business and healthcare leaders, payers, educators, and technology solutions vendors. She has published extensively on issues affecting health care and other industries in the US.
Honors and Distinctions
In Progress: MBA, Utica University.
B.A. degree (Cum Laude), Cornell University
Master's Degree in Health Advocacy, Sarah Lawrence College
Advanced Certificate in Applied Research Ethics, Sarah Lawrence College
Board Certification in Patient Advocacy from the Patient Advocacy Certification Board (PACB) in April, 2019
Frequently Asked Questions
Advancing your life and career with an online degree comes with lots of questions, and we want to ensure your search for answers is effortless. If you have a question we haven't covered, call (866) 295-3106 to speak with an enrollment counselor.
The online B.S. in Health Care Management program can be completed in as little as two years, depending on transfer credits and course load. View the complete curriculum here.
You can complete the degree at a full-time or part-time pace.
The online B.S. in Health Care Management costs $420 per credit hour with a total estimated tuition of $50,400. Learn more about tuition by visiting the tuition page here.
There are 120 total credits required for the online B.S. in Health Care Management. View the complete curriculum here.
Visit our FAQ page