Master of Science in Accounting
Learn to Lead in the Complex Field of Accounting
Accepts Non-Accounting Students
Career-Focused Curriculum
Industry-Experienced Faculty
Learn More Today
Complete the form to learn more about this program.
Duration

2 years

Cost per Credit

$775

Credit Hours

30
Program Benefits
CPA exam preparation
Complete the coursework required for licensure in most states
Master the in-demand skills most desired by top accounting firms, government agencies, and more
Apply Your Skills and Prepare for Your CPA
Dive deep into the numbers to ensure compliance, make data-driven decisions, and provide ethical accounting leadership in any public, private, or government organization with the Master of Science in Accounting (MSA) from Utica University.
Combined with a typical undergraduate accounting degree, you'll complete 33 credit hours in accounting and 36 general business credits, helping you meet the academic course requirements for licensure as a CPA in most states.
Career Outlook: Earn up to $208,000 Annually
As a graduate of Utica University's online MSA program, you'll be prepared to apply what you learn in the public, private, or government sector. With comprehensive financial knowledge and accounting skills, you'll be equipped to fill in-demand roles like Accountant, Financial Analyst, Controller and Financial Manager—as well as earn up to $208,000 a year.1
Jobs and Income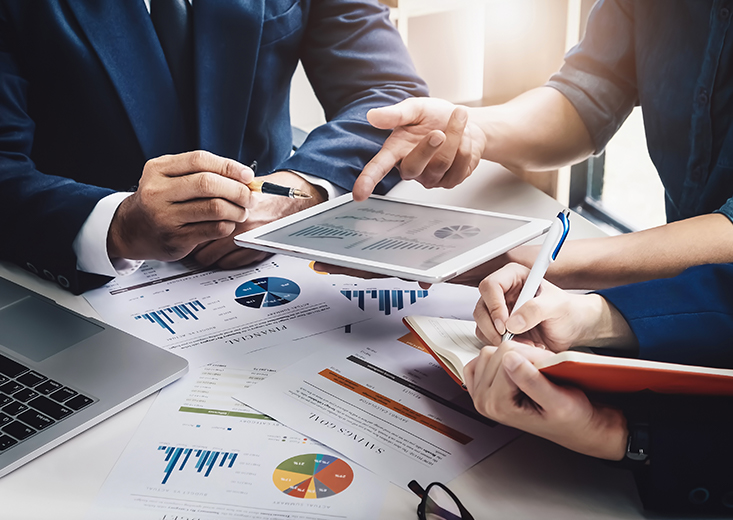 Curriculum
Gain essential accounting skills as you explore financial models, quantitative analysis, corporate tax issues, and more. Upon graduation, you'll be prepared to conduct financial and compliance audits, and interpret and prepare financial statements, reports, budgets, analyses, and forecasts. Coursework also prepares you to take the CPA exam.
Explore Courses
Admission Requirements
To apply for the online M.S. in Accounting, you'll need the following:
2.70 minimum GPA on a 4.0 scale
B.S. in Accounting
A non-accounting bachelor's degree from a regionally accredited institution is acceptable as long as the following course prerequisites are met:

At least 30 credit hours in business courses, including microeconomics, statistics, and finance
At least 18 credit hours in accounting courses, including intermediate accounting I and II, a tax accounting course, and auditing
Get Started
Tuition and Financial Aid
This 30-credit program costs $775 per credit hour. Utica University is dedicated to making an advanced education accessible and affordable and offers many avenues for financial aid.
Learn More
Faculty Spotlight: Learn From Accounting Experts
Get to know our faculty of accounting professionals with decades of experience working in a variety of positions within the financial sector as they share their perspective and expertise. Their industry-tested insights can help you succeed as you enter the field.
Glen A. Hansen, Ph.D.
Associate Professor, Accounting
Glen Hansen, Ph.D., MBA, is Associate Professor of Accounting and coordinator of the on-campus Accounting program at Utica University. He has taught finance, accounting, and statistics at Brigham Young University, the University of Rochester, Penn State University, Baruch College, and Hunter College.
Dr. Hansen has worked in the financial industry designing accounting-based investment strategies for Ziff Brothers Investments, Battenkill Asset Management, and Morgan Stanley. He is currently a member of Utica University's Retention and Completion Task Force and of the Business Department Business Leadership team.
Hansen has published finance and accounting articles in several international journals and a book chapter in the Handbook of Security Analyst Forecasting and Asset Allocation. His current research focuses on how managers use their discretion to influence accounting earnings and other financial statement accounts. Hansen has applied this research primarily in the banking industry.
Honors and Distinctions
Ph.D. in Business Administration and M.S. in Applied Economics, University of Rochester
MBA, Brigham Young University
B.S. in Chemical Engineering, Brigham Young University
Atasi Basu, Ph.D.
Associate Professor, Accounting
Atasi Basu, Ph.D., is an Associate Professor of Accounting who joined the Utica University faculty in 2005. With more than 10 years of college teaching experience, Basu has taught at Syracuse University, Le Moyne College, Purdue University, and the Indian Institute of Technology.
Basu's primary research interests include financial meltdown effects on the consumer discretionary sector, allocation of service department costs, retail competition on the Salop Circle, and the effects on budgets as demands fluctuate.
Honors and Distinctions
Ph.D. in accounting from Syracuse University
Ph.D. in statistics from Indian Statistical Institute, Kolkata, India
M.S. in statistics from Indian Statistical Institute, Kolkata, India
Presented her published paper "Impact of Financial Meltdown on Consumer Discretionary Sector" at the Business Research Consortium in April 2016
Presented parts of a paper she wrote jointly with C.A. Ingene, "Retail Competition on Salop Circle Under Linear Demand," at several thought-leadership conferences around the world:

April 2016 BBCRST (Buffalo, Binghamton, Cornell, Rochester, Syracuse, and Toronto) Conference at Rochester University
June 2016 Informs Marketing Science Conference in Shanghai, China
November 2016 North American Meetings of the Regional Science Association International in Minneapolis
June 2017 Informs Marketing Science Conference in Los Angeles
Selected Publications
Basu, A.K. and Heian, J.B. (2012). A Study of Environmental Capital Expenditures and TRI in Petroleum Refining Industry. International Research Journal of Global Business Development, Vol. 1, No. 1, 35–40
Basu, A.K., Elder, R., and Onsi, M. (2011). Reported Earnings, Auditor's Opinion, and Compensation: Theory and Evidence. Accounting and Business Research, Vol. 42, Issue 1, 29–48
Basu, A.K. (2010). A Study of Environmental Capital Expenditures and TRI. International Journal of Global Business and Economics, Vol. 3, No. 1, 136–143, 2010
Basu, A.K. (2009). Corporate Environmental Performance: A Proposal for Standards. Journal of Global Business Development, Vol. 2, No. 1, 155–162
Frequently Asked Questions
Advancing your life and career with an online degree comes with lots of questions, and we want to ensure your search for answers is effortless. If you have a question we haven't covered, call (866) 295-3106 to speak with an enrollment manager.