Master of Business Administration (MBA)
Practical skills and flexible learning for today's leaders.
Our online Master of Business Administration (MBA) gives you practical skills through hands-on application. Build this program around your schedule, goals, and life by learning 100-percent online or in a blended format through recorded lectures and in-person or live virtual classrooms. This flexibility gives you the opportunity to get immediate instructor feedback in live sessions, 24/7 access to material through online content, and the ability to learn when and where it's convenient for you.
Learn More Today
Complete the form to learn more about this program.
Duration

2 years

Cost per Credit

$700

Credit Hours

30
Program Benefits
Seven specializations to customize your degree
GRE/GMAT not required
ACBSP accredited
Gain the skills and confidence to meet leadership and management challenges head-on
The two-year, 30-credit online MBA degree has ACBSP accreditation (Accreditation Council for Business Schools and Program). Recognition from this leading accreditation association affirms you'll receive a high-quality education from Utica College.
Top-Ranked Online MBA Program
The Online MBA program was ranked a Best Online MBA4 program by Fortune.com in 2021, as well as a Top 100 Hybrid MBA Colleges5 for 2021 by University HQ. Metrics used to select schools include the quality of their program, and other factors like acceptance rate, cost per credit, retention rate, and alumni success.
Utica College's online MBA program gives you expertise that applies across industries in today's global market.
You'll graduate with a deep understanding of business and the confidence to meet leadership and management challenges head-on. Prepare for positions like Chief Financial Officer ($129K average salary1), Senior Financial Analyst ($74K average salary2), and Director of Operations ($88K average salary3).
Career Outlook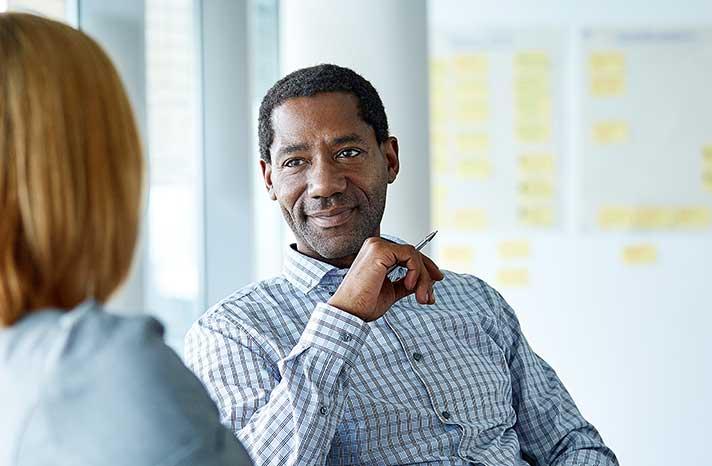 Curriculum: From Core Skills to Your Career
Your online MBA degree curriculum begins with business foundation courses. These 10 required courses are strategically designed for intense focus and application concerning fundamental business skills, including financial fluency, data-driven decision-making, the principles of leadership, and more.
Next, you'll take four electives in your chosen specialization, tailored to your career goals and the needs of the market. You'll complete your program with a three-credit capstone in which you'll work with a real-world company of your choice and prepare for real-world success.
Explore Courses
Available Specializations
Choose a career-focused MBA specialization, or build your own General specialization, to set yourself apart from the competition and serve an organization's business needs.
Admission Requirements
Our online MBA is built to help you rise above your competition. We ensure this program is up to date in addressing the needs of organizations and that graduates are prepared to succeed in today's marketplace. To apply, you need:
Completed application
Bachelor's degree (or international equivalent)
2.7 minimum GPA
No GRE or GMAT required
Incredible opportunities await an MBA-prepared professional with the right mix of practical skills and hands-on experience — across industries, in all kinds of companies.
Get Started
Tuition and Financial Aid
This 30-credit program costs $700 per credit hour. Utica College is dedicated to making an advanced education accessible and affordable and offers many avenues for financial aid.
Learn More
Faculty: Work With Business World Experts
As an online student in Utica's MBA program, you'll work directly with our expert business faculty. All of our instructors have current experience in today's ever-evolving business world, with expertise ranging from digital marketing and economics to accounting and cybersecurity.
No matter how you choose to communicate — be it online, in-person, through live virtual sessions, or a combination of all three — your professors will pass on their most relevant and practical insights and deep knowledge of the field. They'll guide you through your online MBA every step of the way, and they're devoted to your success.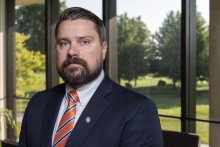 Matthew Marmet, Ph.D.
Assistant Professor of Management
Matthew Marmet, Ph.D., was born and raised in the Mohawk Valley and, in addition to his position as an adjunct instructor at Utica, he serves as the Education Experience Coordinator for the blended MBA program. His main responsibilities in that role include course design and delivery, as well as ensuring student success.
Marmet's work experience includes time spent in Human Resources functions, such as organization and management development, training, and employee onboarding.
In addition to being an avid outdoorsman, he is a Harley-Davidson enthusiast and spends most of his summers on two wheels. He is happily married to his wife, Shawna, and they have two Bichon Frises named Leon and Louie.
Honors and Distinctions
Ph.D. in Industrial and Organizational Psychology from the University of Connecticut
M.A. in Industrial and Organizational Psychology from the University of Connecticut
B.S. in Psychology from Union College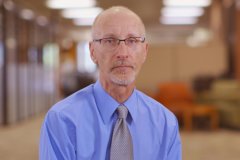 Richard G. Fenner, Ph.D.
Associate Professor, Economics
Richard G. Fenner, Ph.D., MBA, has been a Utica faculty member since 1989 and is currently Dean of the School of Business and Justice Studies at Utica. In addition, he also serves as the director of Utica's Mohawk Valley Center for Economic Education.
Fenner's research interests include the areas of education finance, pedagogy, creating teaching materials, and teaching economics. His most recent work includes a study for the U.S. Department of Education on the impact of state aid on local school districts. He also co-authored a book titled, "Teaching Financial Crises," and developed curriculum for Aplia.
Honors and Distinctions
Ph.D. in Economics from Syracuse University
MBA from Cornell University
Selected Publications
Evensky, J., Kao, D., Fadele, R., Fenner, R., & Yang, Q. (2006). Addressing prerequisite mathematics needs—a case study in introductory economics, International Journal of Mathematical Education in Science and Technology, 28:5, 629-639.
"Earning a graduate degree at Utica College is a great way to boost your resume and land you the career of your dreams."

– MATTHEW MARMET, MBA PROGRAM DIRECTOR
Frequently Asked Questions
Advancing your life and career with an online degree comes with lots of questions, and we want to ensure your search for answers is effortless. If you have a question we haven't covered, call (866) 295-3106 to speak with an enrollment counselor.
You can finish this program in two years of part-time study. The curriculum is made up of 10 core courses, 4 electives in your chosen specialization, and one capstone—each of which requires eight weeks to complete.
According to Poets & Quants, the outlook for graduates with an MBA is bright and getting brighter:
In 2017, the Corporate Recruiters Survey Report found that 86% of companies worldwide plan to hire recent MBA graduates, a seven percent jump from 2016.
Salaries are rising alongside job opportunities. The Graduate Management Admission Council reports 52% of employers increased their starting salaries for new MBA hires at or above the inflation rate.
In the U.S., the projected median starting base salary for recent MBA graduates was $110,000 in 2017, up $5,000 from 2016.
MBA degree holders are in demand across industries and sectors, as in-depth business administration knowledge is required in private, public and governmental organizations.
Learn more about your career outlook with Utica College's MBA.
As we created this program, we examined the current state of the business world and the leadership skills that organizations are looking for. Utica College's ACBSP-accredited online MBA program is designed with the needs of these modern companies in mind. Our real-world, application-based approach provides you with proven, relevant skills that are in demand in today's market.
Plus, this program is flexible and designed to fit your life. You can learn 100-percent online, or you can attend classes on campus. You can engage in live virtual classrooms, or you can watch recorded lectures at your own pace. The way you learn is up to you.
We also offer a variety of specializations for you to choose from, so you can tailor your learning to your career.
No. Our online MBA is designed to help a wide range of students ramp up to business expertise. All students, regardless of background, take a pre-assessment test of core business topics.
Students who do not have an undergraduate business degree will be required to successfully complete short self-study modules and accompanying exams on any topic areas in which they did not test well. These modules will provide students with the basic business knowledge needed to confidently enter our program.
In addition, the core business classes in the first year are built to ground students in deep, relevant business knowledge.
The online master of business administration offers you a variety of specializations to choose from. The knowledge you gain will establish you as an enlightened business leader with the breadth of knowledge necessary for data-driven, results-oriented decision-making. You'll choose from these specializations:
Finance/Accounting
Insurance and Risk Management (IRM)
Cybersecurity
Cyber Policy
Data Analytics
Entrepreneurship
Health Care Management
General: Select any four graduate-level courses and fashion your own elective.
Learn more about the online MBA curriculum and specializations.
This program costs $700 per credit and is composed of 30 credits. Learn more about tuition and financial aid for Utica's online MBA.