Master of Healthcare Administration (MHA) Online
Excel in one of health care's most in-demand professions.
Lead, manage, and facilitate the best possible care with a Master of Healthcare Administration (MHA) online. Whether you currently work in health administration or want to enter the field, Utica College's 36-credit, MHA online program provides you with the knowledge and skills to pursue new and exciting advancement opportunities in a variety of health care organizations.
Learn More Today
Complete the form to learn more about this program.
Duration

2 years

Cost per Credit

$690

Credit Hours

36
Program Benefits
Practitioner-based faculty of experts
100% online; convenient eight-week courses
Prepare for an administrative role in settings across the health care continuum
Unique capstone experiences
You'll explore topics including new technologies, health care accounting, finance, and data analysis to transform data into actionable information, as well as be able to apply legal and ethical principles to create or modify processes and policy. You'll also graduate prepared to implement administrative, marketing, and leadership strategies, analyze health care accounting processes, develop health care staff, and execute organizational change.
Gain the competencies and confidence you need to create change and help health care organizations flourish with the MHA online from Utica College.
The demand for medical and health care administrators is booming.
According to the Bureau of Labor Statistics, jobs in this field are expected to grow 32 percent between 2019 and 2029, much faster than the average for all occupations. These roles are both rewarding and lucrative, with the 2019 median annual wage at $100,980 and the top 10 percent of positions earning $189,000 in 2019.1
With the online MHA, you'll graduate ready to effectively coordinate health services, handle ongoing developments in the field, respond to external events, and ascend to upper-level leadership positions.
Jobs and Income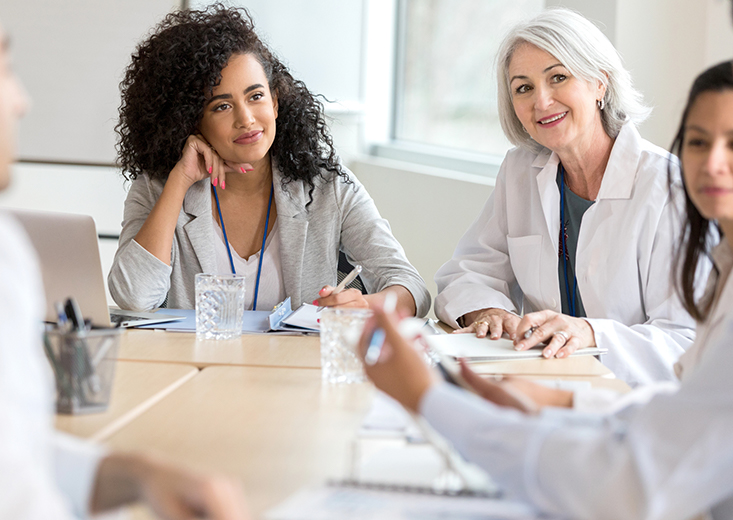 Curriculum
With Utica's two-year Master of Healthcare Administration (MHA) online, you have the power to pursue your personal and professional goals by focusing on administration foundations and health care systems. Each core course of the online MHA has been designed with management, leadership, and the continuum of health care in mind to help you merge foundational theories with best practices in health care. You'll also have the opportunity to select two electives.
Students seeking academic requirements for Nursing Home Administrator licensure in New York should select AGE 503 and HCA 621 as their two program electives.2
In some courses, you will have the opportunity to participate in synchronous "in-person" sessions using Zoom or other types of technologies, which will allow you to virtually meet your peers and provide a more textured three-dimensional experience.
Explore Courses
Admission Requirements
To apply for the Master of Healthcare Administration online, you'll need the following:
Bachelor's degree with a GPA of 3.0 or higher
Official transcripts
Personal statement
Two letters of recommendation
Résumé
If you have additional questions or seek admission as an international student, you can find more information on our admission requirements page.
Get Started
Tuition and Financial Aid
This 36-credit program costs $690 per credit hour. Utica College is dedicated to making an advanced education accessible and affordable and offers many avenues for financial aid.
Learn More
Faculty: Real-World Administrators
In the MHA online, you'll gain practical knowledge and comprehensive skills from experts in the field of health care administration. From finance to human resources, and from telemedicine to nursing home administration, our MHA faculty is made up of professionals with decades of experience leading health care organizations and serving a variety of stakeholders.
Through your faculty's instruction, you'll gain firsthand insights, learn to bridge the gap between theory and practice, and graduate prepared to step into a health care administration leadership role.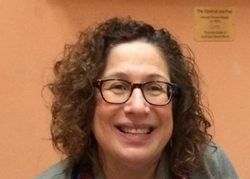 Maria A. DeGiglio, M.A., B.C.P.A.
Director, Healthcare Management Programs and Professor of Practice
Professor Maria DeGiglio, MA, BCPA, is a health advocate with specific experience and expertise in health advocacy, health care, healthcare administration, and higher education, supported by over 10 years developing online and on-ground graduate curricula in healthcare administration, health studies, and health/patient advocacy.
DeGiglio is a former IT executive, professional, and principal industry analyst with specialization in health care and higher education and specific expertise in project management, informatics, business process design and improvement, continuous improvement, business/IT alignment, business case development, contingency planning, and Balanced Scorecard. She also has comprehensive knowledge of both the business and IT issues affecting health care and healthcare education and has legal and policy expertise in privacy and regulatory compliance.
Professor DeGiglio was originally appointed Director, Health Care Advocacy and Navigation (HCAN) and Professor of Practice at Utica College's School of Health Professions and Education in 2014. In June 2019, Professor DeGiglio was appointed Director of the Master of Healthcare Administration Program.
Prior to her appointment at Utica College, Professor DeGiglio directed the development, implementation, and delivery of the Alfus Healthcare Advocacy Certificate Program (AHACP), offered by the University of Miami, and served as lead/adjunct professor (Sept. 2009 to Dec. 2011). She was president and principal of Maria DeGiglio Consulting Group (from 2005 to 2014) working with business and healthcare leaders, payers, educators, and technology solutions vendors. She has published extensively on issues affecting health care and other industries in the US.
Honors and Distinctions
In Progress: MBA, Utica College.
B.A. degree (Cum Laude), Cornell University
Master's Degree in Health Advocacy, Sarah Lawrence College
Advanced Certificate in Applied Research Ethics, Sarah Lawrence College
Board Certification in Patient Advocacy from the Patient Advocacy Certification Board (PACB) in April, 2019
Michelle Sowich-Shanley, Ph.D.(c), CMPE, RN
Adjunct Lecturer, Health Care Administration
Michelle Sowich-Shanley, Ph.D.(c), CMPE, RN, is the Chief Operating Officer for The Kelberman Center. She has worked in healthcare for more than 25 years with health care providers, provider-owned physician practices, hospitals, hospital-owned physician practices, for-profit organizations, not-for-profit organizations, payers, and skilled nursing facilities.
Dr. Sowich-Shanley has more than 10 years of teaching experience in a variety of healthcare courses for New York-area colleges. She is a registered nurse and a certified medical practice executive.
Honors and Distinctions
Ph.D.(c) in Health Services Administration from Capella University
M.S. in Health Services Administration from SUNY Polytechnic Institute
B.S. in Health Care Management from SUNY Polytechnic Institute
More than 25 years of health care experience
Frequently Asked Questions
Advancing your life and career with an online degree comes with lots of questions, and we want to ensure your search for answers is effortless. If you have a question we haven't covered, call (866) 295-3106 to speak with an enrollment counselor.
Interested in our state authorizations? To learn about state authorizations, click here.
This master's degree is designed to be completed in two years (six semesters). You can complete it more or less quickly, depending on how many credits you take each term.
Job opportunities in the field of health care administration are projected to grow 32 percent by 2029, according to the Bureau of Labor Statistics. To learn more about specific titles, salaries, and job descriptions, visit the Master of Healthcare Administration (MHA) career outlook page.
No. While work experience is recommended, it is not required for admission to the program. See the full list of MHA admission requirements.
The MHA online consists of 36 credit hours at $690 per credit hour, for a total estimated tuition of $24,840. This estimate doesn't include fees and other costs.
For a detailed list of all related expenses and fees, see the MHA Tuition and Fees page.
We've designed our program to fit into the lives of students as they maintain full-time employment. As such, a typical course load is one class every eight weeks in each 16-week semester. This is considered full-time for financial aid purposes.
Yes. Transfer credit is awarded for courses taken at a regionally accredited college equivalent to those taught at Utica College and for which you received a grade of B or better. Note that we require official transcripts from all colleges you've attended, as well as a transcript showing the degree awarded.
Shortly after you receive your letter of admission, you will receive an evaluation of your transfer credits from the Registrar's Office. If you want to confirm your credits will be accepted before the evaluation, use TES® (Transfer Evaluation System).
Sources
Bureau of Labor Statistics. (2020, Sept. 1). "Medical and Health Services Managers." Retrieved Sept. 8, 2020, from https://www.bls.gov/ooh/management/medical-and-health-services-managers.htm
In some states, such as New York, the curriculum of Utica College's online Master of Healthcare Administration meets the course requirements for Nursing Home Administrator licensure. Potential applicants should check with their state's licensing agency or contact an Admissions Representative at (315) 732-2640 or toll-free at (866) 295-3106 to verify the necessary coursework. Faculty advisers are available to work with students to offer guidance and help them meet the academic requirements of this field.