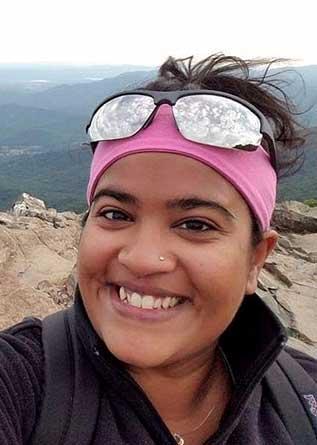 Pooja Chanda, who received her M.S. in Cybersecurity from Utica College [now known as Utica University] in 2016, talked with us about how her online experience at Utica prepared her for her current position as a cyber threat intelligence analyst.
Where do you live?
Norristown, PA
What factors motivated you to get a master's degree?
Getting a master's degree was the next logical step for me to continue professional growth. I have a goal of getting into a career where I can combat child sexual exploitation, and the best way for me to achieve that was to get a master's degree.
What originally attracted you to Utica's M.S. in Cybersecurity program?
After doing a lot of research, Utica came out on top for the cybersecurity master's program. The program is backed by government agencies and the intelligence community. The three tracks Utica offered were a perfect fit for what I was looking for. The program also didn't require a background in IT. The program breakdown was something that I could manage with a full-time job.
Why did you ultimately choose Utica instead of another school with a similar program?
Overall, the M.S. in Cybersecurity program was a great fit for an adult student with a full-time job looking to enter the cybersecurity field with no relevant background. Additionally, Utica did not require GRE scores. While I was currently studying to take the GREs, it was a huge weight off my shoulders to be able to skip that step and submit a letter of intent with undergraduate transcripts in place of GRE scores.
What is your current job title? Is this a recent job change since graduation? If so, what was your previous job?
I am currently a cyber threat intelligence analyst. This is a recent job change since graduation. I transitioned a few times prior to this role. I was immediately hired after graduation by a police department, where I held the position of intelligence analyst in the strategic analysis unit. Following that, I was recruited by Comcast to join their physical security team as a risk intelligence analyst and got to be a part of building their program.
Describe your current job responsibilities.
The cyber threat intelligence analyst role is responsible for the collection, analysis, and dissemination of finished intelligence to leadership, security operations, technology stakeholders, and executive decision-makers. The analyst will primarily focus on identifying trends, patterns, and emerging threats while providing senior leadership with cyber intelligence that furthers their critical understanding of the cyber threat landscape.
How did your studies with Utica's M.S. in Cybersecurity program prepare you for your current role?
It provided me foundational knowledge about the field that has been very helpful in this role. While I would not consider myself an expert, I am familiar with basic concepts that are helping me learn on the job very quickly.
Describe how your experience with Utica made you more competitive in your field or increased your earning potential.
Utica made it possible for me to get a master's degree by designing the program in a way that is manageable for working adults. The application process from start to finish was seamless, and the admissions staff were truly helpful in that. I had a rough start with the program as I was new to both online learning and cybersecurity, but my professors and success coach calmed me down and ensured me that they would help me succeed. They encouraged me to stick with it, offered resources for extra help, and really helped me gain confidence in completing a program that I was so afraid I would fail in.
Describe a specific instructor, course, or lesson that had a lasting impression on you or directly impacted your career.
My thesis course with Prof. Gonnella, for me, was the most valuable class I took. Throughout the 18 weeks, I was able to focus all my efforts on a topic that I was passionate about. Prof. Gonnella stressed the importance of choosing a topic that we cared about, and I cannot thank her enough for doing that. The class also required students to reach outside the box for resources when gathering information. It was the first time I stepped out of my comfort zone and asked for an interview opportunity with a state agency so that I could interview a field professional for insight into my topic. I made lasting connections with people that otherwise never would have happened. I ended up getting a job offer from that same agency because they admired my energy. My writing improved throughout the entire process, thanks to working with Prof. Gonnella, her teaching assistant, and an editor. My thesis had a direct result in me getting my current role as my interviewers were highly impressed by my writing sample.
How has your experience with Utica influenced your long-term career goals?
Utica pushed me to stick with my long-term career goals when I was ready to give up on it. Going through the program showed me that I am capable of succeeding in things despite my shortcomings. The cybersecurity field is dominated by males, by IT wizards, by extremely intelligent individuals who are naturally genius. I come from a liberal arts background with no computer science history, and I now hold a threat intelligence analyst position that I never thought I would have. Utica made that possible, not only through education, but by encouraging me and building my self-confidence. Utica also connected me to amazing people who I made long-lasting relationships with. A fellow student called me one day and said she had a job opening that she thought I'd be a good fit for, which is the job I have now. I am in a place I thought I'd never get to, and I'm excited to continue my path to get to where I want to be. If it weren't for Utica's master's program, I don't believe that I'd still be on the same path.
What advice or feedback would you give to someone considering an online degree from Utica?
Education is never a waste of time or money, but it's not the only thing that can help you succeed. The environment and people you meet along the way are equally important and can be huge influences in your success. Utica provided an extremely positive environment where I always felt encouraged, and the program connected me to several different kinds of people who were more than just classmates. We had the opportunity to meet each other in person during residencies and were able to bond with each other in unique ways because of that. My relationships with my classmates exist today, years after graduating, and one of them led to a life-changing opportunity. You can get an education from many places, but you won't always get support, a healthy environment, and valuable networking opportunities.
Recommended Articles
View All