Address Complex Mental Health and Social Issues With a Focus on Clinical Social Work
Personal Support and Small Class Sizes
Advanced Skills for Diverse Settings
Explore Recovery Theories, Values, and Skills
Learn More Today
Complete the form to learn more about this program.
Duration

8 semesters

Cost per Credit

$775

Credit Hours

60
Program Benefits
No GRE/GMAT required
Field work support and guidance
Experienced faculty of practitioners
900 hours of clinical field experience
Student-Centered Support and Client-Centered Curriculum
Utica University's online Master of Social Work (MSW) program, focusing on clinical social work and recovery values, prepares you for social work careers that drive mental health for diverse populations. Graduate ready to apply to take your state's licensure exams.*
A Master of Social Work degree is ideal for those passionate about supporting others through the promotion and treatment of mental health. The online MSW program's innovative design bridges the historical divide between clinical practice and recovery-oriented care and integrates these complementary orientations throughout the curriculum. Utica's approach strengthens students' ability to engage and support the empowerment of diverse and often marginalized populations using a psychodynamic, recovery-oriented, and social justice lens.
Utica's MSW program includes a four-hour personal psychotherapy requirement, designed to illustrate the value of self-awareness in clinical social work and helps you understand what it is like to be in the client's seat. When it comes to fieldwork, faculty in the online MSW program will work with you to identify and secure field placements that provide you with relevant experience.
Through a success coach and career coach, you'll have the individualized support you need to develop skills as a clinician who successfully advocates for individuals, families, and groups in hospitals, schools, and other social service settings.
The online MSW is currently accepting applicants who reside in New York. An advanced standing MSW program for students with a BSW will be available soon. Contact us for more information on this option.
Career Outlook: Impact Your Community With a Rewarding Career
Utica's online MSW program enables you to become an excellent clinical social work practitioner in any setting you choose. A fulfilling social work career can be found in a variety of fields, from supporting bereaved animal caregivers suffering a loss at the veterinary clinic to helping police agents deescalate emergent crises on the street. The Bureau of Labor Statistics (BLS) predicts a 12% increase in social work jobs between 2020 and 2030, compared to an average 8% increase across all fields.1
Social workers typically need a bachelor's or master's degree in social work from a program accredited by the Council on Social Work Education.1 They also may need other credentials, such as a state-issued license or certification, depending on the state and the job. Utica's online MSW program includes the coursework and hands-on experience necessary to pursue licensure in New York.*
Utica's online MSW program prepares you for clinical work in hospitals, government institutions, social service agencies, school settings, and private practice.
Jobs and Income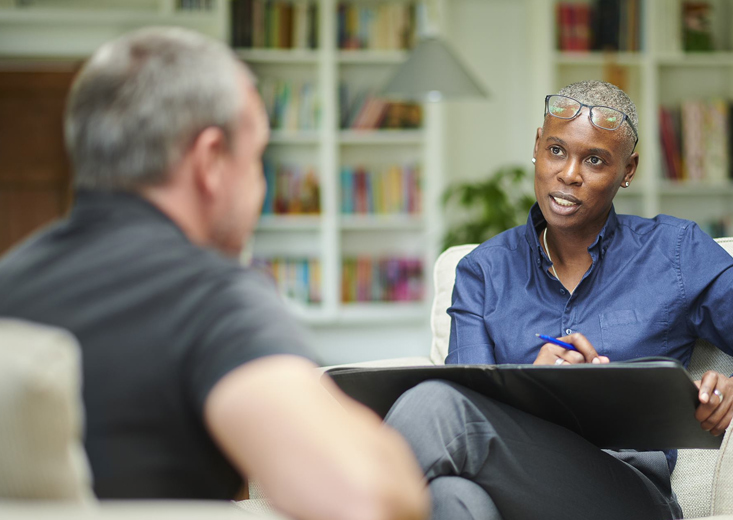 Curriculum: A Progressive Approach to Social Challenges
The 60-credit-hour MSW online program accommodates any schedule, allowing you to maintain a comfortable work, life, and family balance as you pursue your ideal social work career. Graduates will be prepared to sit for licensure exams in their state.* The online MSW program has no residency requirements and can be completed 100% online in as few as eight semesters.
As the only program in clinical social work in the nation that centers on recovery theories, values, and skills, the online MSW program includes courses in trauma-informed practice, assessment of mental health, motivational interviewing, and cognitive-behavioral therapies. You'll learn about the evidence-base and potential of Acceptance and Commitment Therapy (ACT) to help all people move from "better" to "well." Even research and policy courses are designed to improve your skills as a mental health practitioner. In addition, all students must complete four individual counseling sessions to graduate.
Explore Courses
CSWE Accreditation Candidate
Utica University's MSW in clinical social work has been granted candidacy status for accreditation by the Council on Social Work Education's Commission on Accreditation.
Candidacy status affirms the program meets the initial criteria set by the CSWE to move forward with the accreditation process. This allows all students in the program to date to be recognized as graduating from an accredited program once the program achieves full accreditation, expected by 2024.
Candidacy by the Council on Social Work Education's Commission on Accreditation applies to all locations and delivery methods of an accredited program. Accreditation provides reasonable assurance about the quality of the program and the competence of students graduating from the program.
For more information about social work accreditation, contact CSWE.
Program Outcomes
You'll complete this program ready to address the following outcomes for clinical social workers:
Recognize every person's basic human rights to freedom, safety, privacy, an acceptable standard of living, health care, and education.
Appreciate the nuanced ways that institutional and interpersonal traumas converge to marginalize and "other" the vulnerable.
Develop insight, self-care, and resiliency to prevent past traumas from impacting your professional life.
Implement evidence-based interventions informed by your expertise.
Understand how to improve mental health policy.
Help individuals find pathways to resilience and well-being through shared decision-making and treatment planning.
Assess clients' strengths and resources, as well as internal and external barriers to growth, while considering their unique backgrounds and the DSM.
Support clients using trauma-informed interventions, including educating their family, friends, significant others, and allies.
Evaluate services in terms of achieving goals and remaining consistent with recovery values.
Admission Requirements
The online MSW program is currently only accepting applicants who reside in New York. To apply to the online MSW degree, there is no GRE or GMAT required. You'll need the following:
Bachelor's degree
Official transcripts
2.5 minimum GPA
Résumé
Personal statement
Two letters of recommendation from either a current or former work supervisor or a course instructor. Letters from a coworker, friend, family member, doctor, or therapist are not acceptable.
All applications are evaluated holistically by considering GPA, work experience, personal statement, and references. Applicants who do not meet this minimum will be reviewed by the admissions committee on a case-by-case basis.
Get Started
Tuition Details
Tuition for the online MSW program is $775 per credit hour. The 60-credit-hour program has a total estimated tuition cost of $46,500. You can reduce the total tuition cost by transferring up to six credits toward first-year courses or electives, as well as applying for scholarships or financial aid.
Learn More
Faculty
Faculty in the online MSW program are experienced educators and practitioners in professional social work and recovery services and are focused on student success. You'll receive one-on-one support to build your academic foundations, practice clinical skills, and explore social work careers.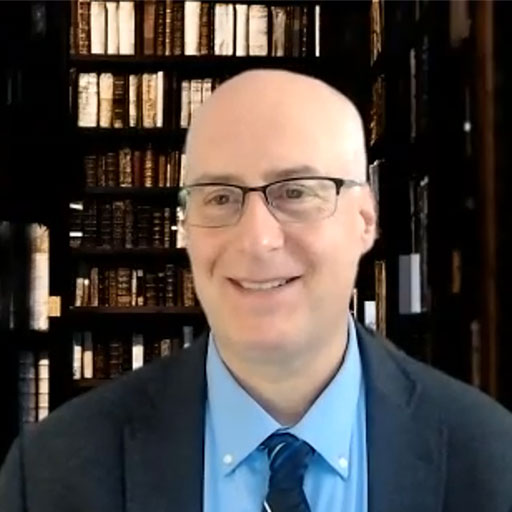 Joseph Hunter, Ph.D.
Professor of Practice, Master of Social Work Program
Dr. Joseph Hunter's education includes a Bachelor's degree in Psychology from Le Moyne College, and a Master's degree and Ph.D. in Social Work from SUNY Albany. He was the recipient of a SAMHSA Dissertation Grant completing a statewide study on adolescent substance use disorder best and promising practices. Dr. Hunter has served in the capacity of Suicide Prevention Coordinator at the Stratton VA Medical Center in Albany, NY, for 15 years, where he completed post-doctoral training as a VA/Hartford Geriatric Social Work Scholar, and he was awarded "Gold Status Fellow" in 2017 as a winner of VA's interdisciplinary national "Shark Tank" competition for a community suicide prevention innovation.
Dr. Joseph Hunter has also been a part-time Adjunct Assistant Professor at the University of Southern California (USC) School of Social Work, teaching online courses in their Master of Social Work (MSW) program (2013-2022).Dr. Hunter has also provided a variety of live online and in-person continuing education courses for licensed social workers in New York State for the National Association of Social Workers (NASW). Dr. Hunter joined Utica University in August of 2022 as full-time Professor of Practice and assumed the role of the Director of the Center of Excellence for Suicide Prevention.
Honors and Distinctions
SAMHSA Dissertation Award Recipient
Hartford Geriatric Social Work Scholar
VA Innovation Shark Tank Winner and Gold Status Fellow
VA National Community Partnership Award
Selected Publications
Hunter, J. (2020). Understanding and Preventing the Dynamics of Suicide: An Introduction to the Self Preservation Theory of Human Behavior. The International Journal of Emergency Mental Health and Human Resilience, Vol. 22 (2), 21-31.
Hunter, J. (2010). Effective Community Based Chemical Dependency Treatment for Adolescents: Matching program services with individual difference variables. ProQuest Dissertation. Publication #3404353.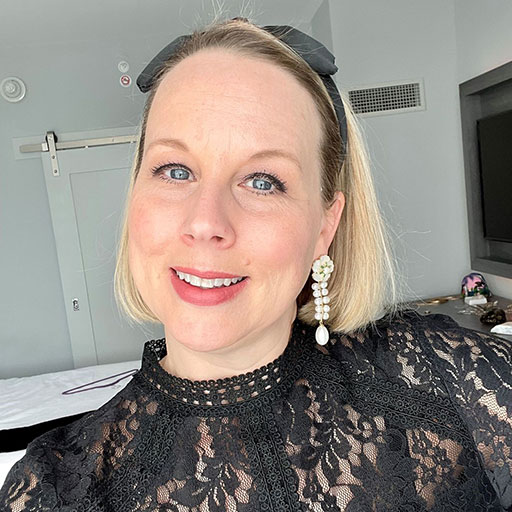 Leigh Ann Hewes, MSW, LICSW
Director of Field Education, Master of Social Work Program
Leigh Ann Hewes has been a licensed social worker since 1995, first at the Bachelor's level for three years then at the Master's/Clinical level for the past 24 years. She has practiced in the areas of mental health, medical social work (including hospital, hospice, home health, public health and dialysis), and case management. In addition to these direct practice settings, Mrs. Hewes has taught Social Work at both the bachelor's and master's level at two universities. Mrs. Hewes has a passion for teaching both the fundamentals and intricacies of Social Work practice, and she believes that field experience is the absolute best way to learn how to become an ethical and competent Social Worker.
Honors and Distinctions:
Masters in Social Work, University of Alabama, 1998
Bachelors of Science in Social Work, UAB, 1995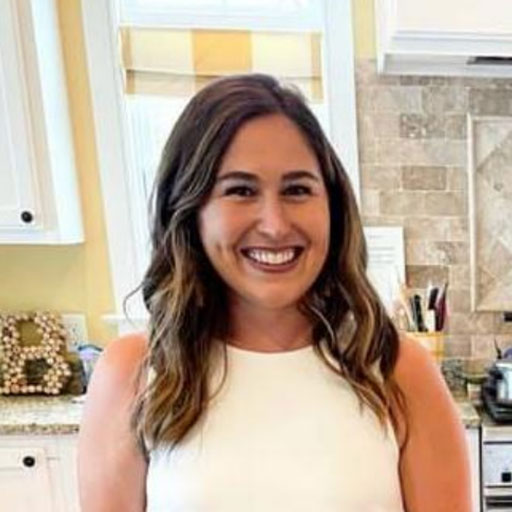 Paige Brown
Field Coordinator, Master of Social Work Program
Paige Brown has worked in the academic setting for 6+ years and became a part of Utica's MSW Program team in October 2022. Paige is passionate about helping students achieve their goals as a social worker through comprehensive field experience
Honors and Distinctions
B.A. in Special & General Education
Frequently Asked Questions
Get answers to frequently asked questions about the online MSW degree, including admission requirements, curriculum, and tuition. You can also request more information or get in touch with an enrollment counselor at 1-866-295-3106.
To learn about state authorization and licensure, click here.