Bachelor of Science in Cybersecurity
Learn With a National Center of Academic Excellence in Cyber Defense
Become a CipherTrace Certified Examiner
Build Investigative Cybercrime Skills
Learn More Today
Complete the form to learn more about this program.
Duration

4 years

Cost per Credit

$475

Credit Hours

120
Program Benefits
Endorsed by the National Security Agency and Department of Homeland Security
RangeForce integrated into curriculum
Three forward-thinking specializations
Proprietary virtual desktop infrastructure (VDI)
6 start dates per year
Set Yourself Apart With Cutting-Edge Skills
Our online cybersecurity degree stands at the forefront of this critical field. You'll take extensive cybersecurity coursework offered online in topics like:
Information assurance
Digital forensics
Incident Response
Cyber operations
Fraud investigations
Homeland security
Emergency management
The curriculum is informed by our cutting-edge Center for Identity Management and Information Protection, as well as best practices of federal agencies and multi-national corporations like the Secret Service, U.S. Postal Inspection Service, Securities and Exchange Commission, Deloitte, Prudential, and K2 Intelligence.
In short, there's no better place than Utica University to earn your cybersecurity degree.
Continue Your Undergraduate Education
This online degree is also a completer program, which means that students may transfer credits into an undergraduate program at Utica University. Students may also complete all 120 credits at Utica University as a full, undergraduate degree. Candidates for the baccalaureate degree must satisfactorily complete a minimum of 30 credit hours of study at Utica University. A maximum of 90-98 credits may be transferred from four-year institutions, and 60-64 from two-year institutions, depending on one's academic major. Transfer students who matriculate with 60 or more credits need to declare a major upon entering Utica University.
Elevate Your Skills with Real-World Simulations

Gain crucial cybersecurity experience and become a better cyber defender. Many of Utica University's cybersecurity courses include RangeForce, an innovative cloud-based training platform that simulates real-world cybersecurity battles. You'll work to conquer threats, beat hacking simulations, and perfect your approach through gamified activities. These immersive experiences are separated into Learning Paths. As you successfully complete each Learning Path, you'll earn an impressive digital badge that you can share on your résumé and on social media platforms like LinkedIn.
Earn a Nationally Recognized Cybersecurity Degree
The National Security Agency and the Department of Homeland Security have designated Utica University as a National Center of Academic Excellence in Cyber Defense Education (CAE/CDE) through the academic year 2024. Because Utica is a CompTIA academic partner, our online cybersecurity degree supports students' preparation for A+, Security+, and Network+ certification exams.
Our cybersecurity programs have also been recognized for their excellence by the Department of Defense Cyber Crime Center (DC3), which has designated Utica as a Center for Digital Forensics Academic Excellence.
Certification: Lead Investigations in Cryptocurrency Fraud and Theft
Through a unique partnership with CipherTrace — a leading cryptocurrency intelligence company — you can become a CipherTrace Certified Examiner (CTCE) and learn how to analyze and trace funds lost in cryptocurrency fraud and theft. You'll use the same tools and get the same CTCE training as regulators and law enforcement members around the world do in becoming expert cryptocurrency financial investigators.
Once certified, you'll be able to complete an active investigation at CipherTrace and write the case report, giving you direct, hands-on experience and demonstrating an incredibly valuable skill set to employers.
Get Qualified for In-Demand Cybersecurity Careers
By 2021, there will be more than 3.5 million unfilled jobs in cybersecurity, and it's projected that cybercrime will cost organizations around the world $6 trillion.1 Companies need qualified information security experts, with 100,000 cybersecurity jobs posted2 in 2016 alone. That need is an opportunity for you.
In 2019, the median pay for information security analysts was $99,730.2 This entry-level cybersecurity position requires a bachelor's degree, and job postings are expected to grow 31 percent by 2029, much faster than the national average for other career paths.2
Opportunities abound in this incredible field. Take advantage of them with your online cybersecurity degree.
Jobs and Income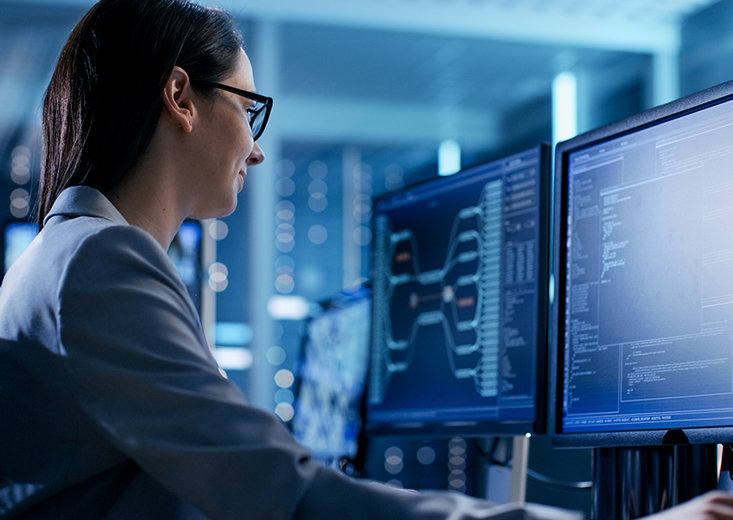 Focus Your Degree for the Job You Want
Our cybersecurity online degree gives you a solid foundation of cybersecurity knowledge and skills.
Your core coursework includes an introduction to criminal justice, computer hardware and software, system threats, malware analysis, information security, cryptography, and more.
Plus, you can choose from three specializations in the online cybersecurity degree program to focus your coursework and align your education with your career goals and interests:
You'll harness this knowledge to guard private information, identify network weaknesses, and defend against threats from hackers, malware, and other cyber threats.
Explore Courses
Choose From Three Cybersecurity Specializations
Cyber Operations
Specialize in one of cybers leading topics. Learn about defensive and offensive tactics, techniques, and procedures, and gain advanced instruction and training in UNIX.
Cybercrime and Fraud Investigation
Learn computer forensics skills with a focus in economic and white-collar crime, and fraud prevention and detection, so you're prepared to lead the fight against digital white-collar crimes and the cybercriminals who commit them.
Network Forensics and Incident Response
Gain a hybrid skillset in computer science, computer forensics, and vulnerability assessment so you can investigate cyber-related incidents and bring internet criminals to justice.
Admission Requirements
Our B.S. in Cybersecurity accepts applications from first-time freshmen, as well as students with some college credit. To apply, you'll need the following:
Résumé
Personal Statement
Letter of Recommendation
Official transcript

Official final high school transcripts (with graduation date) are required for all undergraduate students.
If you are entering with an associate degree or transferring a minimum of 57 credits from a four-year college, your general educational requirements are considered complete.

SAT or ACT scores for first-time freshmen if you'd like these to be considered
You don't need prior cybersecurity education or computer science training to apply.
Learn More
Tuition and Financial Aid
The online cybersecurity program consists of 120 credits and costs $475 per credit hour. Utica University is dedicated to making an advanced education accessible and affordable and offers many avenues for financial aid, from scholarships to military benefits.
Learn More
Learn From Cybersecurity Experts
Our cybersecurity faculty members have a robust background in the industry and many years of combined experience educating cybersecurity professionals.
They're experts in fields such as:
Forensics
Counter-terrorism
Counter-espionage
Cybersecurity
Information assurance
These experienced leaders have helped develop cybersecurity programs at other colleges across the U.S. As a student in the online cybersecurity degree program, you'll directly benefit from their instruction, mentorship, career advice, and network of opportunities.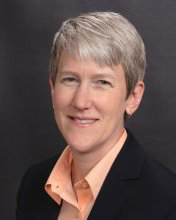 Stephanie R. Nesbitt, J.D., MBA
Dean, School of Business and Justice Studies/Associate Professor Risk Management & Insurance
Stephanie R. Nesbitt, J.D., MBA, has more than 20 years of experience working in the risk management and insurance industry. She is licensed to practice law in the State of New York and is a former Wiley Faculty Fellow.
Nesbitt's research is in the development and effective teaching of business education programs and legal issues in cybersecurity. Prior to joining Utica University, she was the risk manager and associate counsel for Faxton-St. Luke's Healthcare.
Nesbitt has been a featured speaker at several national, statewide and regional industry conferences on topics such as insurance cost allocation methods, the impact of risk management on healthcare quality, individual and team accountability to improve healthcare quality, and HIPAA and patient privacy.
She also holds a third-degree black belt in karate and is an avid runner.
Honors and Distinctions
J.D. from University at Buffalo School of Law
MBA from Syracuse University
B.A. in Speech Communication from Ithaca College
Member of the New York State Bar Association and Academy of Management
Selected Publications
Nesbitt, Stephanie, R., Matthew D. Marmet, Tracy M. Balduzzi, and Rick Fenner. The Impact of Behavioral Engagement on Outcomes in Graduate Business Blended Learning Environments. The BRC Academy Journal of Education 7, no. 1 (2018): 79–99. http://dx.doi.org/10.15239/j.brcacadje.2018.07.01.ja04
Norrie, J. and Nesbitt, S. (2016). Into the Cyber Breach Go U.S. Government Regulators. Frontline Safety and Security, 11(4), 30–33. http://security.frontline.online/article/2016/4/5721-FTC-and-Cybersecurity-Oversight
Frequently Asked Questions
Advancing your life and career with an online cybersecurity degree comes with lots of questions, and we want to ensure your search for answers is effortless. If you have a question we haven't covered, call (866) 295-3106 to speak with an enrollment counselor.