Master of Science in Nursing Education
Nurture the Next Generation of Exceptional Nurses
Advance in a Rapidly Growing Field
Solid Foundation for Teaching Opportunities
Learn More Today
Complete the form to learn more about this program.
Duration

7 semesters

Cost per Credit

$825

Credit Hours

42
Program Benefits
Complete 180 practicum hours with nursing educators near you
Learn from experienced, accessible faculty
180 Practicum Hours With Nursing Educators
As the educational requirements for entry-level clinical care increase and more nurses pursue their master's, there are simply more students than nurse educators who can teach them.
Counter this trend and take the lead in teaching nursing excellence to others with Utica University's CCNE-accredited online Master of Science in Nursing Education program.
Our CCNE-accredited Master of Science in Nursing Education program includes 180 practicum hours collaborating with nursing educators near you. You'll work directly with an experienced teacher to design, organize, and implement a curriculum. Then you'll put what you've learned into action in classroom, laboratory, and clinical learning environments to develop a learning project with a defined audience.
In the second half of your practicum, you will examine the nurse educator's role in academia, health care organizations, and the profession of nursing. You'll complete your practicum hours with a fuller understanding of how to teach nursing students and fellow nurses.
Career Outlook: 24% Employment Growth by 20292
The AACN (American Association of Colleges of Nursing) reports that, in 2019, more than 80,400 qualified applicants were turned away from nursing schools, primarily due to a lack of faculty.1 This shortage is being felt across health care and could grow even more urgent as an estimated one-third of all nursing faculty retire by 2025.1
The urgent need for nurse educators means new opportunities for you. This position has a median annual salary of $83,1602, and nurse educators employed at colleges and universities, psychiatric and substance abuse hospitals, and general medical and surgical hospitals are even better paid, with median salaries ranging as high as $133,460.2
Beyond a higher salary, the online master's in nursing education program will allow you to take on a meaningful new role where you ensure new nurses are well-prepared, empathize with students' struggles based on your own experiences, and help shape the future standards of health care by instructing its new leaders.
You don't have to place your clinical practice on hold to teach, either — in fact, your daily work will enhance your daily lessons.
Explore Careers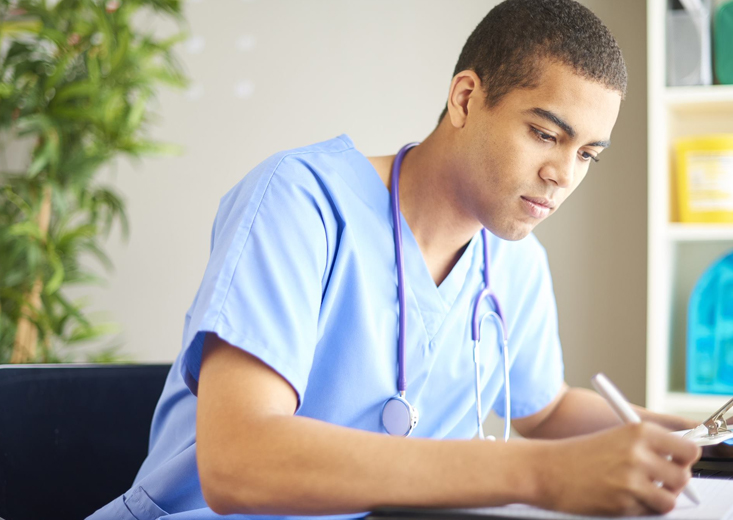 Curriculum: Instructional Fundamentals
You'll kick off the Master's in Nursing Education program with core courses in organizational nursing leadership, public health, epidemiology, health care quality improvement, and more.
Next, build your skills in the foundations of teaching, including curriculum development, instructional design, exam formulation, student appraisal methods, and teaching diverse learners.
Each course in the CCNE-accredited Nursing Education Master's program is designed to fit the life of a busy working nurse, so you never need to worry about missing a class if you pick up a shift or your schedule changes.
Explore Courses
Program Outcomes
The Master of Science in Nursing Education program prepares you to:
Integrate the arts and sciences, including leadership and ethical principles, with nursing science as a foundation for decision-making within diverse situations, settings, and communities resulting in safe patient care, quality outcomes, and health promotion.
Use critical reflection, innovation, and interprofessional collaboration to promote lifelong learning and continual improvement, integrate current evidence, and inform policy.
Incorporate current technologies to augment professional practice and scholarship.
Implement evidence-based teaching and learning strategies in diverse settings that facilitate the achievement of identified outcomes and enhance professional socialization and development of learners.
Conduct learner-centered curriculum design and revision based on relevant organizational frameworks, alignment with parent institution, accreditation and professional standards, and program outcomes.
Synthesize program, course, and student learning effectiveness based on quantitative and qualitative assessment and evaluation data obtained per the systematic plan of evaluation.
Admission Requirements
Advancing your nursing education with Utica University is simple. Students with a history of volunteer work, excellent communication skills, and previous publications and presentations are especially encouraged to apply.
Graduate nursing program admissions requirements include:
Unencumbered RN license in the state in which you reside (NY or FL)
Bachelor's degree in nursing from an accredited nursing program
3.0 minimum GPA
2,000 hours of work experience
3-credit statistics course (grade of B* or higher)
3-credit baccalaureate-level health assessment course*
Two letters of recommendation from professional colleagues at the B.S.N. level or higher
Résumé
Writing sample
*Applicants with a B- or lower grade in Health Assessment will be required to successfully complete a 3-credit hour course prior to starting the program. Applicants with a B- or lower grade in statistics will be provided the option of completing a self-study module and accompanying exam.
Note: Approved background check and fingerprints required prior to beginning practicum courses.
Get Started
Tuition and Financial Aid
Our CCNE-accredited Master's in Nursing Education program costs $825 per credit hour, with 42 total credits. Utica University is dedicated to making an advanced education accessible and affordable and offers many avenues for financial aid.
Learn More
Faculty
You'll work directly with graduate nursing faculty who have years of combined experience not only in health care but also nursing education. They'll pass along their real-world experiences from both the classroom and their nursing practice.
Graduate nursing faculty are led by program chair Annette Becker, D.N.S., RN, and assistant professor Doreen Rogers, D.N.S., RN. Both carry decades of experience in nursing education, research, and practice.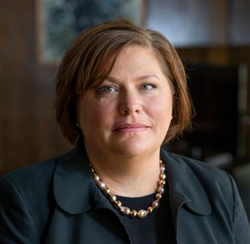 Doreen Rogers, DNS, RN, Alumnus CCRN, CNE
Assistant Professor of Nursing, Director of Nursing Graduate Programs
Dr. Doreen Rogers was appointed Assistant Professor of Nursing at Utica University in January 2018. Prior to joining Utica University, Dr. Rogers taught at associate and baccalaureate levels of pre-licensure. She was most recently the coordinator of the online Nursing Education graduate program at SUNY Polytechnic Institute, where she was an instructor as well.
Dr. Rogers began her nursing education at St. Elizabeth School of Nursing. She completed her baccalaureate degree at SUNY Utica/Rome, her graduate degree in Nursing Education from Mansfield University, and her Doctor of Nursing Science (Nursing Education/Leadership) from Sage Graduate School. Over the past 26 years, Dr. Rogers' professional nursing practice encompasses medical-surgical and critical care. She holds CCRN (2001) and Certified Nurse Educator (2008) certifications and has provided workshops on test construction, item writing, and item analysis. Her research activity encompasses professional collegiality, resilience, rural nursing, nursing retention, and various components of nursing education. In her spare time, Dr. Doreen Rogers enjoys spending time with her husband at their two teens' athletic competitions, providing assistance with community functions, and coaching varsity girls' basketball during the winter months.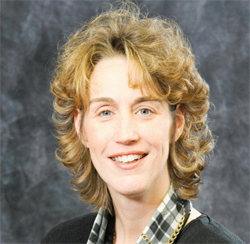 Cynthia Love-Williams, DNS, RN
Associate Professor of Nursing
Dr. Cynthia Love-WIlliams is an Associate Professor of Nursing at Utica University. She has worked in nursing education since 1996 in both associate and baccalaureate programs. Dr. Love-Williams' educational background includes a baccalaureate degree from Mississippi University for Women, a master's degree from Wright State University, and a doctoral degree from Russell Sage Graduate Schools.
Dr. Love-Williams is the current Director of the Graduate Nursing Program at Utica University and her areas of expertise are in critical care, medical-surgical nursing, and inter-professional education. To stay connected to the health care field and be able to apply real-world experiences to the learning environment, Dr. Love-Williams practices per diem at a local health care facility as the Hospital Supervisor. Her areas of research include inter-professional education, simulation, test taking, and student success.
Frequently Asked Questions
Advancing your life and career with an online degree comes with lots of questions, and we want to ensure your search for answers is effortless. If you have a question we haven't covered, call (866) 295-3106 to speak with an enrollment counselor.
Interested in our state authorizations? To learn about state authorizations, click here.
You can complete the program in just seven semesters. To learn more about the curriculum, view our courses page.
Tuition for the M.S. in Nursing Education is $34,650. You need to complete 42 credits at $825 per credit hour. You can review all tuition costs here.
You'll complete 14 courses to earn the M.S. in Nursing Education degree. You can learn more about coursework here.
No. Applicants to Utica's M.S. in Nursing Education program must have an unencumbered RN license in the state in which they reside. This program is designed to provide advanced education for continued professional success in nursing.
Visit our FAQ page