Master of Science in Family Nurse Practitioner
Provide Compassionate Primary Care to People of All Ages
Personal Support and Small Class Sizes
Learn More Today
Complete the form to learn more about this program.
Duration

8 semesters

Cost per Credit

$825

Credit Hours

48
Program Benefits
Prepare for FNP certification through the ANCC or the AANP
Participate in a three-day immersion experience
Complete 720 practicum hours across three courses
APPLY FOR FREE IN MAY*! Use Waiver Code: OLNU.
Immersive, Hands-On Learning
Become your patients' first point of contact for all their health care needs with the CCNE- accredited online Master of Science Family Nurse Practitioner program.
This FNP degree supports your preparation for FNP certification through the American Nurses Credentialing Center (ANCC) or the American Academy of Nurse Practitioners National Certification Board (AANP).
Our FNP degree includes an in-person, three-day immersion experience, hosted from Friday to Sunday at Utica University. In a simulated clinical setting using real hospital equipment, you'll gain hands-on experience with suturing, orthopedic splinting, gender examination, X-ray interpretation, and other essential everyday skills.
Next, across three courses, complete 720 practicum hours focused on preventing health problems, caring for child-bearing individuals, and treating asthma, diabetes, hypertension, and other chronic illnesses. You can apply this experience toward the 1,000 practicum hours required for FNP certification.
The FNP program and staff at Utica continue to exceed my expectations. Faculty members are genuine. Whenever I reach out, they are quick to respond and extremely supportive! I am constantly recommending this program to others.

– ANGELA SMITH, MS – FAMILY NURSE PRACTITIONER STUDENT
Career Outlook: Fill the Primary Care Shortage
By 2032, it's projected communities nationwide will have a shortage of up to 55,220 primary care physicians.1
At the same time, more than 20 states and Washington, D.C. now permit FNPs to fully practice without physician supervision.2 This allows you to fill the primary care shortage by building your own practice and providing compassionate care to the people who need it most.
The average salary for nurse practitioners and other advanced practice nursing positions is $115,800, with 45% job growth projected through 2029.3 This growth is driven by baby boomers living longer, more active lives.3
Jobs and Income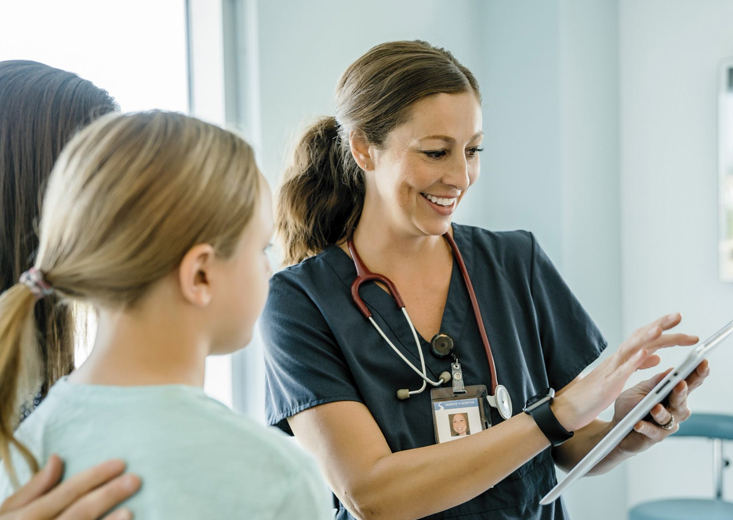 Curriculum: Skills to Build an Autonomous Practice
You'll begin the CCNE-accredited FNP degree with core courses in nursing leadership, health care quality improvement, and more.
Next, you'll build your skills in primary care, including leading nursing teams, preventing the spread of disease, public health and epidemiology, and treating acute injuries and chronic illness.
Each course required by the FNP degree is designed to fit the life of a busy working nurse, so you never need to worry about missing a class if you pick up a shift or your schedule changes.
Explore Courses
The master's degree program in nursing (Family Nurse Practitioner [FNP], Leadership and Education) and the post-graduate APRN FNP certificate program at Utica University are accredited by the Commission on Collegiate Nursing Education.
Program Outcomes
The M.S. Family Nurse Practitioner program prepares you to:
Integrate the arts and sciences, including leadership and ethical principles, with nursing science as a foundation for decision-making within diverse situations, settings, and communities resulting in safe patient care, quality outcomes, and health promotion.
Use critical reflection, innovation, and interprofessional collaboration to promote lifelong learning and continual improvement, integrate current evidence, and inform policy.
Incorporate current technologies to augment professional practice and scholarship.
Employ analytic and diagnostic reasoning skills in the promotion of health, reduction of risk, and management of illness with diverse patient populations.
Demonstrate interprofessional collaboration, ethical principles, and leadership through political and policy endeavors to enhance safety, quality, health care processes, and delivery systems.
Illustrate effective communication and collaboration during patient and family interaction and coordination of care services.
Admission Requirements
Advancing your nursing education with Utica University is simple. Students with a history of volunteer work, excellent communication skills, and previous publications and presentations are especially encouraged to apply.
APPLY FOR FREE IN MAY*! Use Waiver Code: OLNU. Graduate nursing program admissions requirements include:
Unencumbered RN license in the state in which you reside (NY or FL)
Bachelor's degree in nursing from an accredited nursing program
3.0 minimum GPA
2,000 hours of work experience
3-credit statistics course (grade of B* or higher)
Baccalaureate-level health assessment course*
Two letters of recommendation from professional colleagues at the B.S.N. level or higher
Résumé
Writing sample
*Applicants with a B- or lower grade in Health Assessment will be required to successfully complete a 3-credit hour course prior to starting the program. Applicants with a B- or lower grade in statistics will be provided the option of completing a self-study module and accompanying exam.
Note: Approved background check and fingerprints required at the time of clinical courses.
Get Started
Tuition and Financial Aid
Our CCNE- accredited FNP degree costs $825 per credit hour, with 48 total credits. Utica University is dedicated to making an advanced education accessible and affordable and offers many avenues for financial aid.
Learn More
Faculty
At Utica University, you'll work directly with faculty who have years of combined experience in health care and nursing education. They'll ensure you're well prepared to serve as an FNP by sharing their learning from real-world practice.
Our graduate nursing faculty is led by program chair Annette Becker, D.N.S., RN, who has been teaching with Utica since 2006, and FNP coordinator Jennifer Klimek Yingling, RN, Ph.D., ANP-BC, FNP-BC.
Both leaders bring you decades of experience in nursing education, research, and practice.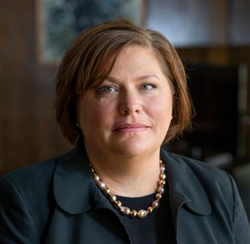 Doreen Rogers, DNS, RN, Alumnus CCRN, CNE
Assistant Professor of Nursing, Director of Nursing Graduate Programs
Dr. Doreen Rogers was appointed Assistant Professor of Nursing at Utica University in January 2018. Prior to joining Utica University, Dr. Rogers taught at associate and baccalaureate levels of pre-licensure. She was most recently the coordinator of the online Nursing Education graduate program at SUNY Polytechnic Institute, where she was an instructor as well.
Dr. Rogers began her nursing education at St. Elizabeth School of Nursing. She completed her baccalaureate degree at SUNY Utica/Rome, her graduate degree in Nursing Education from Mansfield University, and her Doctor of Nursing Science (Nursing Education/Leadership) from Sage Graduate School. Over the past 26 years, Dr. Rogers' professional nursing practice encompasses medical-surgical and critical care. She holds CCRN (2001) and Certified Nurse Educator (2008) certifications and has provided workshops on test construction, item writing, and item analysis. Her research activity encompasses professional collegiality, resilience, rural nursing, nursing retention, and various components of nursing education. In her spare time, Dr. Doreen Rogers enjoys spending time with her husband at their two teens' athletic competitions, providing assistance with community functions, and coaching varsity girls' basketball during the winter months.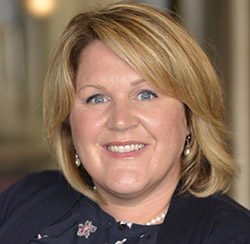 Jennifer Klimek Yingling, RN, Ph.D., ANP-BC, FNP-BC
Assistant Professor of Nursing, Nurse Practitioner Program Coordinator
Dr. Jennifer Klimek Yingling is an Assistant Professor of Nursing at Utica University, as well as an upstate New York resident helping to strengthen the community through practice, academics, and research.
Dr. Klimek Yingling studied at Mohawk Valley Community College and the State University of New York Institute of Technology, and she received her Doctorate of Philosophy in Nursing from Rutgers University. A passionate caregiver and a patient advocate, she is a dual-boarded Family and Adult Nurse Practitioner, holding nursing licenses in New York, Florida, and Massachusetts. Her more than two decades of nursing experience include medical-surgical, emergency, forensic, occupational and student health. Dr. Klimek Yingling practices clinically on a weekly basis in the Mohawk Valley Health Systems Emergency Department, which allows her to bring real-life experiences to the classroom.
Her research activities include work with breast cancer survivorship, horizontal violence, emergency department throughput, and adverse childhood experiences. In her free time, Dr. Klimek Yingling enjoys spending time in the Adirondacks with her husband and four children, as well as photography, gardening, cooking, and painting.
Frequently Asked Questions
Advancing your life and career with an online degree comes with lots of questions, and we want to ensure your search for answers is effortless. If you have a question we haven't covered, call (866) 295-3106 to speak with an enrollment counselor.
Interested in our state authorizations? To learn about state authorizations, click here.
With the Family Nurse Practitioner program, you can earn a Master of Science in Nursing degree in as few as 20 months. Plus, you may transfer up to nine credits from a regionally accredited institution to complete this program ahead of schedule. Review additional curriculum details on the courses page.
The online Family Nurse Practitioner program's cost per credit hour is $825. The program includes 48 credits, and the total estimated tuition is $39,600. To help eligible students reduce their costs, Utica University accepts up to nine credits to this program. Learn more by visiting the tuition page.
Utica University holds CCNE accreditation for the online Family Nurse Practitioner program. Utica is also regionally accredited by the Middle States Commission on Higher Education. This accreditation means that you will engage in a rigorously evaluated education as you advance toward your MSN degree.
Before you apply, you will need 2,000 hours of experience documented by your facility's HR department. You will also need to have an unencumbered RN license in the state where you reside. Review additional requirements by visiting the admission page.
To apply to the online Family Nurse Practitioner program, you will need to:
Submit an online application and pay the $50 application fee.
Have a bachelor's degree in nursing from an accredited nursing program.
Send two letters of recommendation from professional colleagues at the BSN level or higher.
Have at least a 3.0 GPA. Applicants with a GPA below the minimum may be admitted at the department's discretion. A GPA letter will be required.
Have completed at least 2,000 hours of work experience documented by your HR department. You will also need to have an unencumbered RN license in the state where you reside.
Provide a writing sample that details your personal and professional goals and explain how this program will help you bring them to life. The statement of interest must include responses to the following:

Describe how your professional experiences have prepared you for future education in the role that is the focus of your desired track.
Describe your plans to alter your work, professional, and/or personal obligations to have the time needed to complete the graduate courses and clinical work successfully.
Identify one significant contemporary issue/problem in the current US health care system and discuss how members of the nursing discipline can help address/solve the issue/problem.

Have completed two prerequisites:

Three-credit statistics course (grade of B or higher). If you received a B- or lower grade in this prerequisite statistics course, you will have the option to complete a self-study module and accompanying exam.
Three-credit baccalaureate-level health assessment course, including an observed laboratory that will be determined during your application review. If you received a B- or lower grade in the health assessment course, you will need to complete a three-credit-hour course before starting the program.

Complete a background check
A background check is not required for admission, but an approved background check and fingerprints are required before your clinical courses begin. Students shall be drug-screened through arrangements made by the school and the screening agency. Students are responsible for the cost of all screenings. You may be denied participation and placement at a clinical agency based on the background or drug screening findings and the clinical agency's pre-employment screening policy.
Withdrawal from the program will be necessary if you cannot be placed in a clinical agency to meet program practicum requirements.
Send a résumé with a detailed work history highlighting any experience that may be relevant to this program.
If you're located outside the U.S., you will need to:
Submit an online application and pay the $50 application fee.
Submit your test scores from either the TOEFL or IELTS if English is not your first language. Utica University requires a TOEFL score of 550 written, 213 computer-based, or 79 internet-based. Utica requires an IELTS score of 6.0.
Complete an evaluation of your overseas degree and transcripts to determine their equivalency in the U.S. You may use the following universal organization: https://www.wes.org/
Provide a letter of support from your employer using a form provided by Utica University.
Review the admission requirements to learn your transfer credit options and other details.
You will take 16 courses to complete the online Family Nurse Practitioner program. That includes seven core courses and 10 family nurse practitioner courses. The program also includes a practicum so you gain experience in a clinical setting. Review additional curriculum details on the courses page.
Visit our FAQ page
Sources
*Application Fee Waiver Offer for the online BS in Health Care Management, BS in Health Sciences, RN to BSN, Master of Healthcare Administration, MS in Nursing Leadership, MS in Nursing Education, MS in Family Nurse Practitioner, Nursing Home Administrator Advanced Certificate, Nursing Leadership Advanced Certificate, Nursing Education Advanced Certificate, Family Nurse Practitioner Advanced Certificate valid from May 1-May 31, 2022. Use Waiver Code: OLNU. Applicants must be at least 18 years of age and not a current student. These fee waivers have no cash value unless applied to the application fee. There are no refunds if a student submits payment online; please do not submit payment online after completing your application during this offer period.